Parties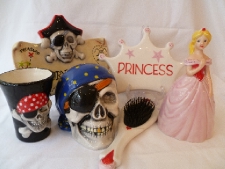 Kids 6+
Why not come and have an Artyparty with us? We can seat 30 budding artists at any one time. Minimum 8 people required for a hosted party over a 2 hour session.
Standard package:
£115 for 8 persons and £12.50 for each addition to max 30
(Great for kids ) A choice of mug, cereal bowl, 22cm plate or a cute animal/figure from the party range.
Package includes:
A piece of pottery for each child to paint.
A party plate for the birthday boy/girl, with everybody's names who attended the party and decorated by us, as a keepsake.
Squash and water for the children once they have finished their masterpieces.
A tea or coffee for the parents of the birthday child.
All items individually wrapped and named to make your life a bit easier after collection.
Why not design your own birthday?
We can supply pottery to suit almost any theme.
Adults
Why should the kids have all the fun? A great way to celebrate a hen party, birthday party, Christmas party or any kind of get together.
Studio fee is £4pp plus the cost of your pottery. Groups can be of any size but if you would like exclusive use of the studio for 2 hours, we ask for a minimum of 20 painters.  You are more than welcome to bring your own alcohol & nibbles.  Teas & coffees are available if required.
If you would like a to book an exclusive evening session, they run from 7pm – 9.30pm.  Studio fee is £5pp plus the cost of your pottery.  Contact the studio for evening availability.
A deposit of £25 is required at time of booking and balance is payable on the day.